By continuing to expand our services to our customers on both local and global stages , we have earned the trust of two thousand companies.
Face-to-face communication at the customer's place of business is a matter of the utmost importance to us.

Toyo carries out "visit to customer's place" at scheduled date on a regular basis to be readily available beside the customer, which allows us to grasp current and prospective needs, and make the best proposal. Constant effort to realize face-to-face interaction has earned the trust of our customers of 2,000 companies.

We will expand services throughout the planning period from the pre-expansion to post-expansion.

We can offer full support for preparation in advance for expansion in the base country, and further assistance in the location overseas after expansion. We value face-to-face communication in the location overseas in the same manner as in the base country, realizing common services across the world.
Expand supplier network across the world
for offerring optimum solutions.
We cooperate with 7,000 companies in Japan and 1,200 companies overseas to meet our customer's needs.
In cooperation with locations in the world through supplier network, we intend to offer proposals and solutions in various fields.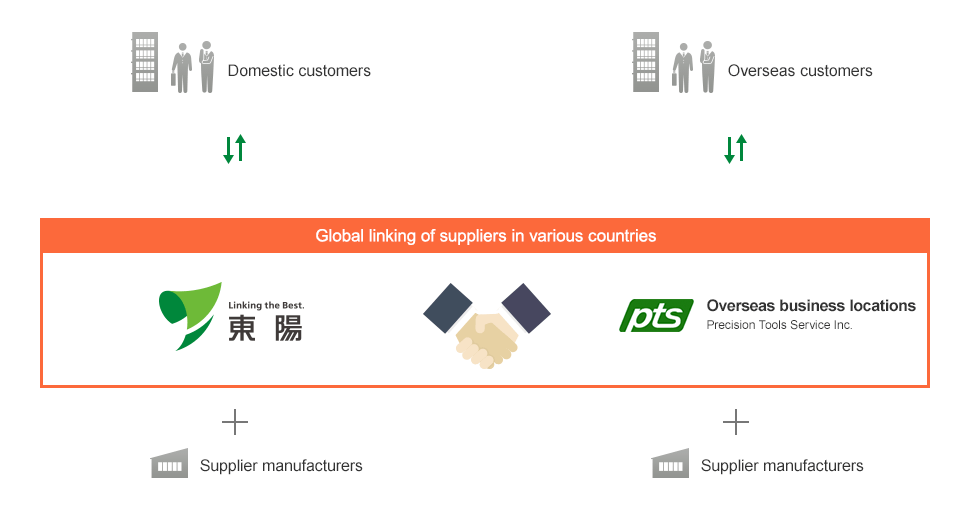 Toyo will make efforts to support business operations on site in collaboration with local staff who are familiar with Toyo's vision.
Toyo will continue to develop its vision throughout the world, while adapting to the local ways and practices.

Our local staffs are encouraged to understand Toyo's vision, philosophy and policy. Therefore Toyo and locations overseas can solve clients' problems in the same way. And we realize the offer of the best possible services by adapting various cultures and business practice and localizing our service system.

Global cooperation system with mobility and speedy action.

Close cooperation between Toyo and PTS (overseas business location) will provide solutions of various local problems with mobility. Our local staffs correctly grasp the task and facilitate smooth communication for sharing necessary information with the relevant sections in Japan in English as our common language, implementing further improved services.
Toyo offers total support
for customers from various angles.
As a machine and tool trading company, Toyo has been providing manufacturers - mainly in the automobile industry - with a wide variety of services. Professionals from each area of the business deliver their respective services. We will deliver a product which will meet our customers' needs in multiple ways.